A SPECULATIVE EXPLORATION
When should we build an algorithm?
Why choose an algorithm rather than another apparatus?
Is the algorithm a solution or a possible problem?
These are the many starting points of this speculative exploration of which ambition is to question the myths and fantasies behind those systems, and then open perspectives about their futures.
As a common thread, this speculative work offers a thought experiment merging critical thinking and foresight to imagine what could be the ethical opportunities conditioning the deployment of public algorithms.
This future-based approach is designed to be a base for projection and reflection. Are presented here a series of six speculative scenarios, materialised through design fictions. These narratives are jumping into possible futures. Therefore, the scenarios are as many invitations for anticipation and reflexivity, but also benevolent provocations.
Six futures to think in another way about the public algorithms, to escape their techno-centred logic and to reconsider the raison d'être of these systems.
FOUR ANGLES OF SPECULATION
— Making public algorithms visible
— Avoiding, altering and unmaking public algorithms
— Documenting opportuneness and rewriting History
— Algorithms opportunities and ethics in time of crisis
Methodology: speculative futures and design fiction
SCOUTING IMAGINARIES…
The exploration started with a study and an online workshop during the 'Month of the Public Innovation', in November 2020. The ambition for this first step was to scout the imaginaries related to public algorithms. This phase allowed us to identify and understand the social representations and preconceptions inhabiting the people building public algorithms or deciding of their implementation.
By building on a hundred contributions, the study and the workshop have inspired and grounded the speculative futures presented here.
… TO EXPLORE FUTURES
To imagine and tell these possible futures, our process used a design fiction approach. Design fiction is about imagining fictional products, spaces and services allowing us to see and experience possible futures, in an engaging and critical way.
Each design fiction scenario is told through one or several provotypes (provocative prototypes).
These different speculative artefacts underlines tensions, unthought implications and intertwined stakes linked to the ethics of public algorithms.
ABOUT THESE SCENARIOS
What these scenarios are:
— Possible speculations
— Supports for projection, discussion and decision
— Inspiring-but-disturbing perspectives
— France-centred stories
— Narrative bases to be augmented and/or disputed
What these scenarios are not:
— Utopias nor dystopias
— Predictions about what the future will be
— Prescriptions about what the future should be
— A visionary roadmap or a hidden agenda
— Guidelines for public algorithms ethics
PROCESS OVERVIEW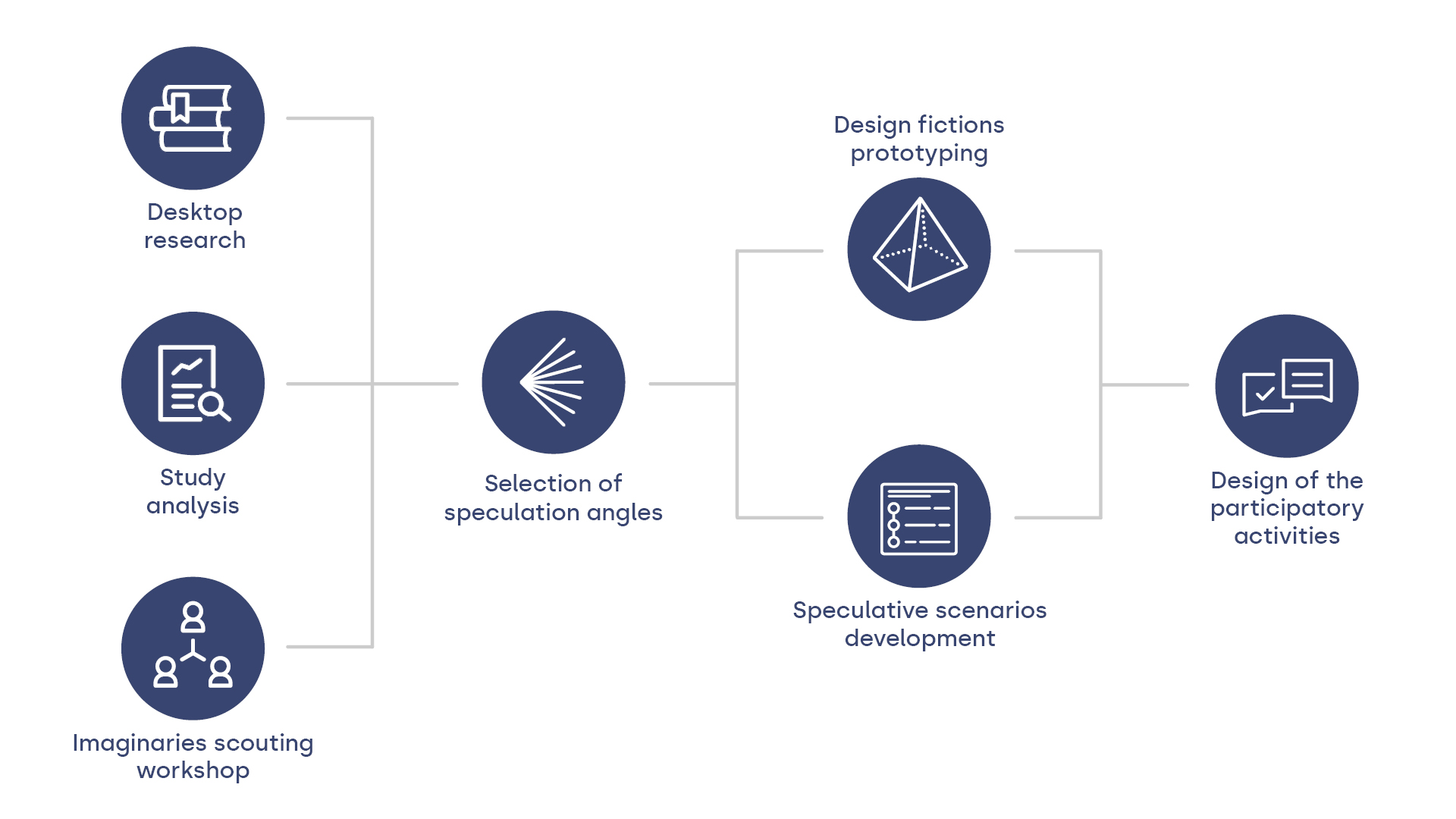 Debate is a vital sign of the good health of democracy. Then, it appears to be mandatory to debate about the futures explored through this project.
Debating about a speculative scenario is about to question their plausible and preferable nature. It is also about collectively asking ourselves if we want to head or not towards this horizon, and, if so, to decide how we should head towards this future or, on the contrary, avoid going in this direction.
Dissensus is here the raw material of the experience: points of views and opinions meet and diverge in order to highlight arguments able to inform public policies.
THREE ACTIVITIES TO DISCUSS, DECONSTRUCT AND ENRICH THESE FUTURES
— Swaying Futures invite you to debate about the preferability of this future.
— O.P.I. offers to deconstruct the scenario to evaluate its plausibility.
— Retrospeculation encourages you to enrich and dispute a future scenario.
Designed for an in-person facilitation, these three activities are flexible and can be adapted for remote online sessions. If these activities don't require any prerequisite to take part in them, a previous experience in facilitation is advised to host a discussion workshop.
Many other futures remain to be narrated and investigated.
It's your turn to speculate!